Arbors and Pavilions
Arbors and pavilions make excellent decorative items in your backyard. You can place an arbor on the side of your home to welcome guests to your backyard or garden. A garden arbor is also the perfect divider between two different parts of your yard or garden. You can include a fence in your arbor kit to extend and accent the entryway. Our arbor kits are easy to assemble and are made of weather-resistant woods that will help to maintain their beauty for years to come.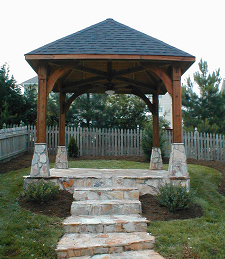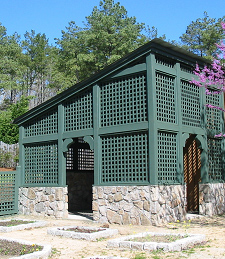 Wooden arbors are also a classic piece in outdoor events, such as weddings and other social gatherings. Wood arbors offer the perfect backdrop for photos, and provide a beautiful entryway into your backyard or garden. If you grow wisteria, ivy, or other vine or long-stemmed florals, a wooden arbor provides a perfect system to manage the vines, while the vines further enhance the beauty of the wood arbor.
Another option for the gardener is a wooden trellis. While they make an excellent backdrop or barrier to your garden, you may consider a garden trellis if you need to support vines of wisteria, ivy, or even roses. Trellises are a great way to accent walls with greenery, and can be spread over long distances.
Let Landscapes of Florida help you turn your visions into reality. We have hundreds of design ideas for you to review.