Decks
If you're thinking of building or adding a patio to your home, you will probably need some backyard patios ideas. Put some thought into what you want before you get started, such as how big this area will be and how you want it to look. There are many materials that will accommodate your project. Some of the materials that you will find on the market are concrete, marble, pressure treated wood, cedar, brick and dry deck. Consider also what you want to have included in your plan. Your backyard patio can have a built in barbeque, a waterfall that would help make your patio a little more peaceful as you sit there in the late evening, a swing that could be directly built into your patio or free standing, planters for flowers you can enjoy during a warm summer's evening enjoying the aroma that only flowers can bring.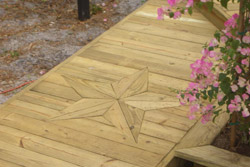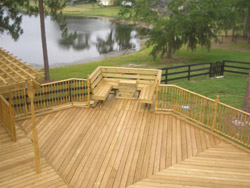 You also need to consider whether you would like an overhead awning and what type of awning would be appropriate for you there are many different types on the market to choose from or you could have a roof awing that would match the outline of the roof of your existing house. Consider if you want your patio enclosed with some type of netting to keep unwanted bugs at bay. You can also have glass surrounding your patio or half wood and half net. There are many possibilities.
Lighting should be considered also there are many kinds of different lighting you can choose from. Consider if you want them bright or just a glow, if you want them built into your patio or free standing, overhead lights or low to the ground gently lighting.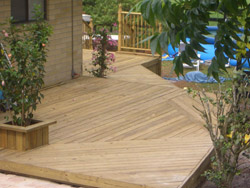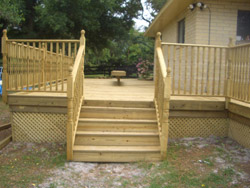 If your budget won't tolerate anything too fancy, then keep in mind that concrete can be poured into a frame the size you want your patio to be. Let it set and then cover it with one of the many colored turfs that are on the market, add few lights around the area, add some patio furniture and you'll have everything you need to relax and enjoy the outdoors of your home.