About Us
Thank you for considering Landscapes of Florida for your landscaping needs. Let us take a moment to introduce you to the services our company provides.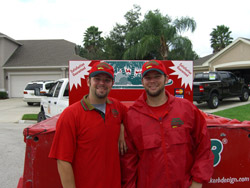 We are Kyle and Ryan Bono; we moved to Florida in 1986 and attended Lake Mary High School and the University of Central Florida (UCF), where we received our bachelor degrees. Until now, most people have known us for our work on the baseball field. Following college, professional baseball careers temporarily separated us, but we knew after baseball we wanted to go into business together. See In The News for recent articles and publication.
Our first company was Kwik Kerb Design, LLC; its success and sustained growth has led to the creation of Landscapes of Florida. While doing the concrete curbing we were constantly asked if we offered other services; such as landscape design, sod and mulch installation, lighting, brick pavers, pressure cleaning and irrigation repair. Customers were looking for a single source of quality professional work. We have filled this void by providing all of these services. We feel no job is too small or too large. We are a customer first, service oriented, satisfaction guaranteed company making Landscapes of Florida the right choice at the right price.
Landscapes of Florida serves the residential and commercial community of the Central Florida. Our primary markets are Seminole, Orange, Lake and Volusia Counties providing solutions to landscaping needs in the following areas:
Continuous Concrete Curbing (Kwik Kerb)
Landscape Design (Girard Environmental Services)
Sod, Mulch and Rock (Bolling Forest & Pebble Junction)
Landscape Lighting (Segull Lighting & Lighthouse)
Pressure Cleaning (Premier Roof Cleaning)
Irrigation Systems (Water Right)
Patios, Walks and Walls (Hamilton Brothers)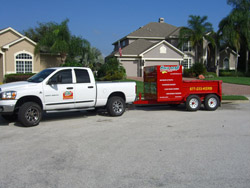 Our goal is to "turn your visions into reality", so that you can truly enjoy the Florida lifestyle. With us doing the work, we can put leisure time back into the lives of busy families. We take your vision and apply our professional expertise and field experience to provide the perfect landscape setting. We accomplish this by integrating the total design. We reduce your on-going maintenance cost with continuous concrete edging. We start by installing drainage and irrigation systems to ensure that your landscape has the correct amount of water, day in and day out, automatically. We build decks, patios and retaining walls. We bring in and contour topsoil to provide visually stimulating designs and balanced nourishment for your plants. We cover the bedding areas with a blanket of either shredded hardwood or pine bark mulch. We provide the best insect and disease resistant varieties from local nurseries for plants that will thrive in our region and climate.
We invite you to walk thru our website and see for yourself how we can "turn your visions into reality with the services we offer.
Kyle and Ryan Bono
Owner / Operators - Landscapes of Florida
---
Frequently asked questions
What is your area of expertise?
We are a full service landscape design/build/maintenance company for residential and commercial customers. Our designs are noted for their creativity, aesthetic appeal and environmental sensitivity. Our landscape installers are craftsmen skilled in carpentry, masonry and landscaping.
How many customers do you currently have?
We have over 100 clients on our customer file.
How long have you been in this business?
We moved to Florida in 1986 and followed our father in working with homeowner and condominium. After receiving our bachelor degrees from UCF we formed Kwik Kerb Design, LLC and most recently Landscapes of Florida. We are incorporated in the State of Florida.
How do you go about designing a landscape for a customer?
We set up an appointment where the customer and designer meet to review their needs. Attention is given to the style of the neighborhood, the customer s desires, the architecture and placement of the property, planting issues such as sightlines, scale, lighting conditions, and finally resale considerations. After the initial discussion, a concept drawing is prepared on site, reviewed with the client and then finished in the design studio. The design is sent by email for comments to the customer along with the installation plan. Once the design is finalized, an itemization of the list of materials and labor is created and the business proposal contract is prepared. When all is complete, a presentation meeting is held with the customer and designer to sign the contract.
What areas do you serve?
We regularly serve the following counties in Central Florida: Seminole, Orange, Volusia and Lake. However, we are not limited to Central Florida and our self-contained mobile units can carry over six tons of sand and materials.
For work outside these areas, please contact us.
Do you give free estimates?
Yes. All of our installations are customized to the owner and the property. Before a cost can be determined, a design must be created. The quotation process may take one to four hours depending on the complexity of the design. We do not charge for these design and quotation services.
Sometimes we can even give you a quote over the phone. If you have the dimensions we need to enter into our pricing algorithms. An example might be a concrete patio, flat on grade. We'll give you the base price over the phone. However, this is not binding. Before there is agreement to do the job, we will need to go to the site, prepare a site plan and design so that our crews will know what to install and where to install it. And design and project management fees will be applied in the contract preparation.
Project success comes from thorough planning. And it is the project design that separates a mediocre project from an exceptional one. Landscapes of Florida is recognized in the industry for its outstanding project designs and reference clients.