Kwik Kerb The Best Decorative Landscape Curbing Available
It wasn't that long ago when people would use bricks or wooden railroad ties to mark the boundaries of their landscaping or gardens in an attempt to prevent erosion and retain soil and mulch. Since then there have been many rather dull and ineffective plastic or metal sheet alternatives that have come and gone.
Well that has all changed in recent years. Now, with the use of continuous concrete curbing, beautifully manicured landscapes with attractive and permanent landscape borders can be seen in neighborhoods across the globe.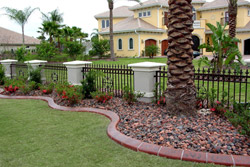 Benefits of Continuous Concrete Curbing
Concrete landscape borders do not discolor, rust or rot like metal, plastic or wooden garden edging
Weed and Erosion Control - Curbing provides an effective barrier that eliminates hours of weeding and edging
Concrete edging yields a professionally designed appearance that is permanent
With innovative ground preparation techniques, curbing can be installed without disturbing existing landscaping
Unique process allows installation to be fast, clean and less expensive than traditional methods
Quality Counts When Choosing Concrete Edging!
Landscapes of Florida may not be your only choice for curbing in Central Florida area, but we believe that we are your best choice. Not all curbing is created equal and we did our homework before we chose the Kwik Kerb system and technology. We do believe the finished product to be superior to our competition.
View samples of our finished product and then let us turn your visions into reality.